Fastping is an independent external tool that terminate automatically unnecessary processes to improve the game speed.
The Official website of the fastping: 
[You must be registered and logged in to see this link.]
① Download fastping
Download the file below.
② Installation
You have to start the installer after downloaded. 
Uncheck the last tree at bottom.
The last tree is something like the Yahoo toolbar. It will be installed when u put a check on it.
So if you dont like do not put a check on it.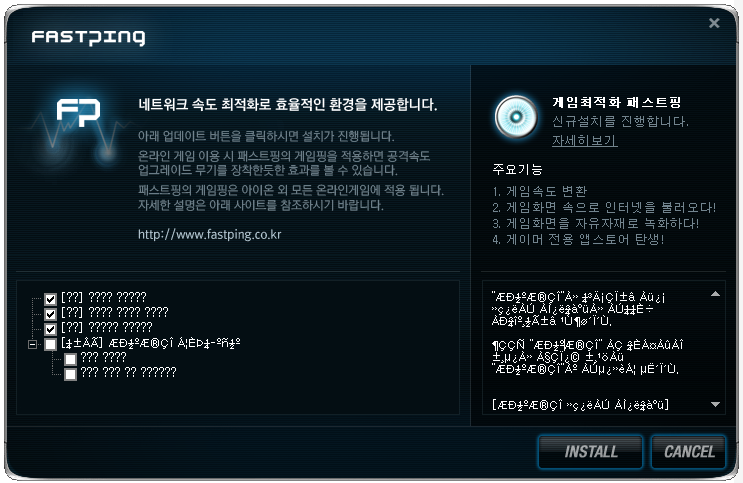 Press the "INSTALL" Button. The Installation will be running.
③ Setting
Start Fastping. 
something like the following dialog box is displayed when Fastping is started.
If the window on the left does not appear, please click the red frame.
Square window left will appear.
Activate all the Icon that is colored in yellow Frame by clicking on it.
Confirmation window appears, click "OK".
Icon will gleam. It is activate.
Click on the blue frame.
If you put a check in the box of orange Fastping will starts up automatically when the computer starts. 
Uncheck if not required.
Location and video screen capture is set in the white Frame.
Not a Problem if You  do not use those features.
Setting of fastping is now complete. 
You can safely turn off the window buy pushing the "×" button. 
④ Fastping Execution
Now press "START".
Run Fastping before launching the game because it will cutting you from the net.
If you press Stop Fastping will set the net configuration b4 back again. The same here, it will disconnect you for few second again.
Thats all.
Attachments

FastPing4.0.zip

You don't have permission to download attachments.

(132 Kb) Downloaded 20 times
Last edited by Admin on Thu May 15, 2014 8:52 am; edited 6 times in total
i try to download but....its required few information which i fail to read...any skip button on that interface? :XD

SuperAki




Anzahl der Beiträge

: 4


Anmeldedatum

: 2013-10-19



Try again now. And? Download works?
Similar topics
---
Permissions in this forum:
You
cannot
reply to topics in this forum